Privacy Tarps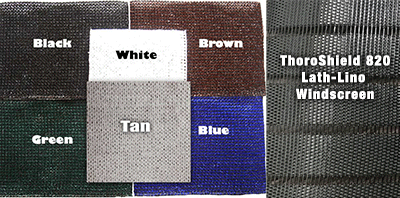 Has your peak tennis game ever been hampered due to the windy weather conditions? Do you find yourself in the presence of nosey neighbors? Need to keep a private area really private? If you have answered yes to any of the questions above you're an excellent candidate for a THOR Privacy Tarp. All of our products are made from the finest materials and are sure to last you longer than anybody else on the market. Our privacy tarps can also be used for fence tarps, wind breaking tarps, barrier tarps, or just about any other use you can dream up. Get the optimal level of protection from the elements or unwelcome eyes by picking the correct amount of weave percentage. The higher the percent the less wind and visibility through the tarp there is. Pick the one that's right for you by using our Specifications table above, and make it a THOR Tarp today so you don't have to worry about your investment tomorrow!
Select fabric and dimensions from the table below by clicking a button in the grid.
Note: these are all cut sized and slightly smaller than dimensions stated due to loss of fabric in seaming and hemming.
You may return to this screen repeatedly to add additional screens to your shopping cart.
Specifications:
ThoroWeave 870
IronShield 1400
Opaque Windproof and Waterproof Fence and Privacy Tarps
Available Sizes:
5'8" x 50'
7'8" x 50'
5'8" x 50'
7'8" x 50'
Various
Available Colors:
White, Tan, Blue,
Green, Black, Brown
White, Blue, Black,
Grey, Tan
Various
Grommets:
24" Apart All Sides
24" Apart All Sides
All four sides at 12"
At 12" across top, 2' down sides and pipe/chain pocket bottom
Block Percentage:
87%
100%
100%
---